Oh-my-gosh!!! Tonight's episode of Smallville was superb.

Christina Milian was looking totally fab as Rachel, an A-List actress, coming to town for a film shoot. She and Clark had some sparks flying when they "read through her lines". Watch out Lana!

There was some major foreshadowing going on through the storyline of Warrior Angel as to what is going to happen to Clark and his gang. We all know that Lana is going to get killed off at some point, this just served as a little reminder to enjoy the Clana days while we can.

Other coolness involved Clark getting a red cape as a gift from Rachel. The last scene when it blew in the wind as Clark walked back to the barn was pure sweetness.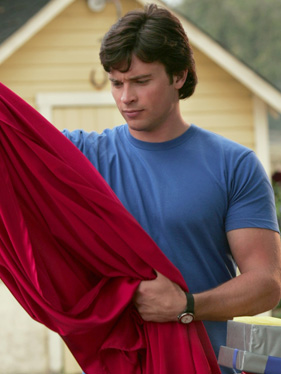 The director gets mad kudos for that.

And the BIGGEST scene of the night was when the Warrior Angel fanfreak threw Lana off the high-rise and Clark plunged off the building to save her. The look in Lana's eyes said it all: "Whoa!"

A guy like Clark can save me anytime.

So what where your thoughts on it all???

Oh--and check out The CW website to enter a contest to be the vlogger of the month.